5 Must-Visit Night Markets (Pasar Malam) in Langkawi
Car Rental Langkawi
Posted by Preciuos on 24 Jun 2023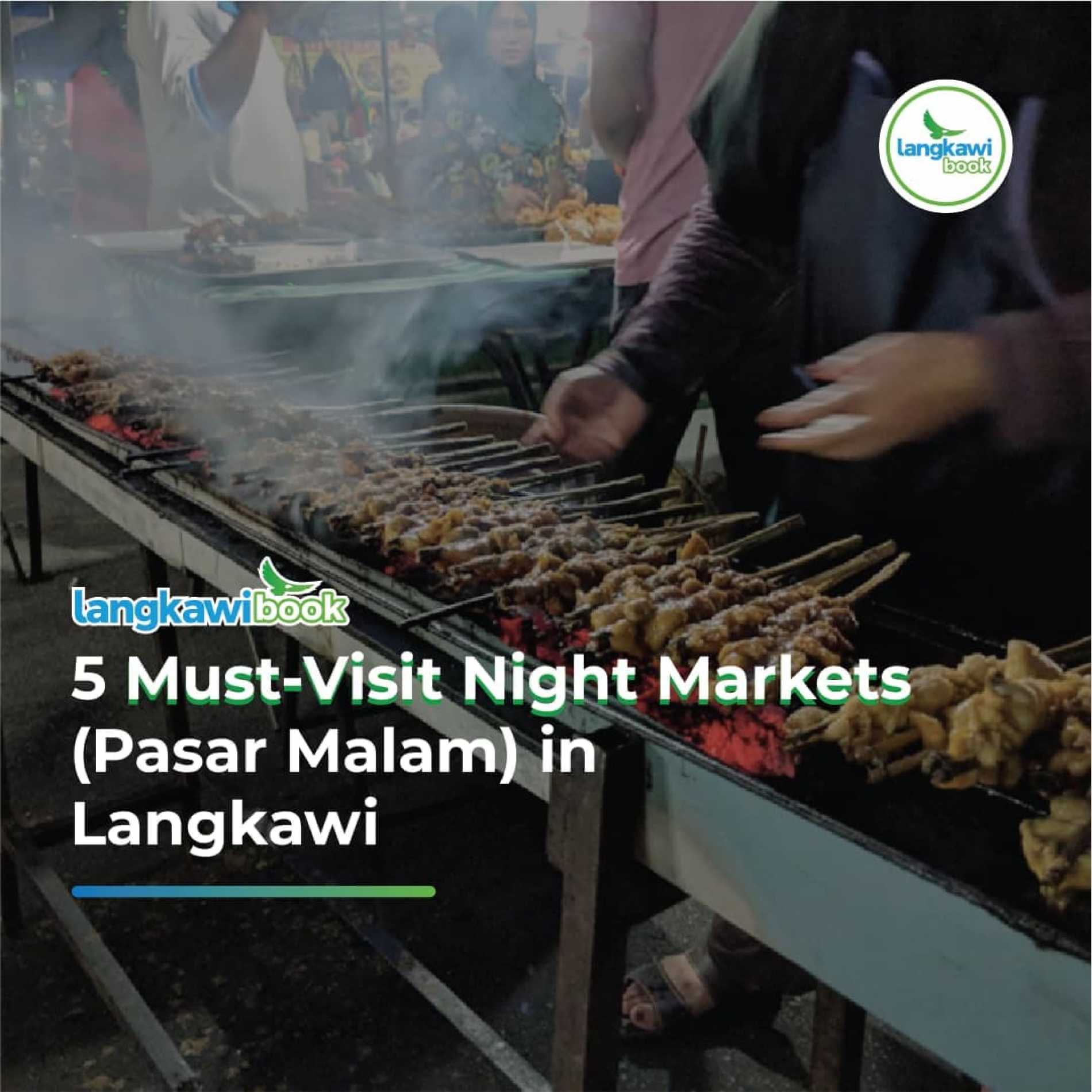 What are Night Markets?
A night market, known as pasar malam to Malaysians, is an outdoor street market carried out at night with a variety of food stalls in addition to a small number of other sellers and performances. Night markets are well-liked gathering places for locals and tourists due to their relaxed ambiance and variety of food stalls.
Since night markets are relatively affordable for vendors to engage in, many local businesses choose to test out new food and beverages at these events. This makes night markets ideal for food enthusiasts to discover and experiment with new dishes and emerging cuisine trends. In other words, if you enjoy food and want to avoid the heat of state and local fairs, night markets are the way to go.
Your Langkawi trip will not be complete without visiting the night markets. They are held every day of the week in various locations and provide unique dining and shopping experiences.
At Langkawi night markets, you can enjoy food and a wide variety of cheap goods such as watches, sunglasses, wallets, paintings, and many more. Additionally, you can indulge in some of the best local dishes - all under one roof. Although there isn't usually appropriate seating, the excitement of these night markets comes from watching the bustling Langkawi nightlife in action.
5 Most Popular Night Markets in Langkawi
1. Ayer Hangat Friday Night Market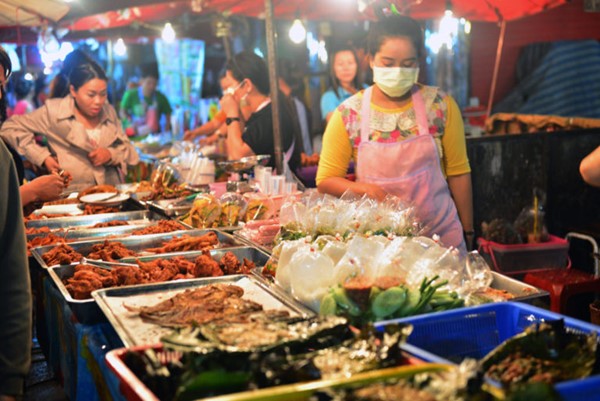 Immerse yourself in the flavors of Malaysian and Thai street cuisine at Ayer Hangat Night Market, while experiencing the essence of local culture. Just a 10-minute drive from Tanjong Rhu Beach, this market is a must-visit after a refreshing swim. Explore a variety of stalls offering a tempting array of local delicacies like pisang goreng (banana fritters), kuih-muih (traditional Malay pastries), and the renowned durian fruit.
This vibrant Langkawi night market is a haven for food lovers and budget-conscious tourists alike. Indulge in affordable yet mouthwatering fruits, veggies, and seafood delights without compromising the lively atmosphere of a traditional night market. Don't miss the chance to embark on a culinary journey and satisfy your cravings in this culinary paradise.
Specialty: Nasi Kaumuk - Fragrant rice served with fried chicken, including sambal (spicy sauce)
Address: Jalan Padang Gaong, 07000 Langkawi, Kedah
Operation Hours: Friday, 5:00pm - 10:00pm
2. Ulu Melaka Night Market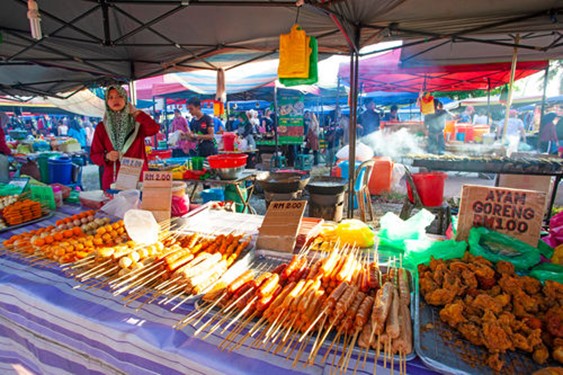 Photo: Langkawi Insight
Ulu Melaka Market is one of the most well-known places in Langkawi to visit at night. More than 40 different stalls make up this market, which sells a wide range of goods including clothing, jewellery as well as an abundance of fresh food. For less than RM5, you may snack on piping-hot Ayam Goreng while exploring the stalls.
This Langkawi night market offers a superb selection of durian meals during the fruit season. You can visit Ulu Melaka Night Market every Monday night at Kampung Padang Gaong.
Specialty: Lokching – Hot Dog-style Street food. (Chicken, Beef, Seafood on the stick)
Address: 2, Taman Wawasan Indah, Kampung Padang Gaong, 07000 Langkawi, Kedah
Opening Hours: Monday, 5:00pm - 9:00pm
3. Padang Matsirat Night Market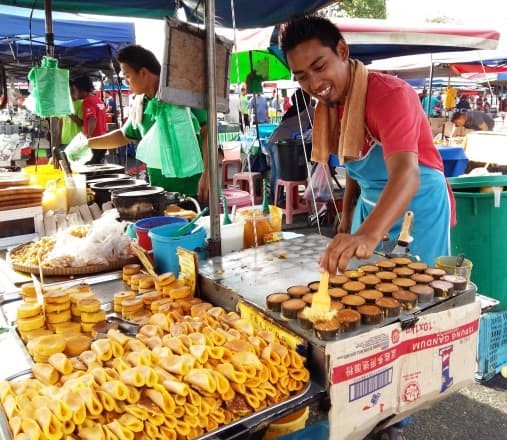 Photo: theislanddrum.com
The Padang Matsirat Night Market, which is situated in the parking lot for the Field of Burnt Rice (Beras Terbakar), a well-known sight in Langkawi, is another place to visit in Langkawi at night.
It provides a fresh local vibe in this area of the city. Locals and tourists alike adore this one-night market on Sundays, which transforms into a bustling bazaar of local cuisine, farmers selling their products, and booths stocked with inexpensive sunglasses, watches, garments, and many more items.
You can also have the chance to try a variety of foods, such as pickled fruits, sausages on sticks, satay skewers, and refreshments like soybean drinks to ensure that you can experience the local flavours.
Specialty: Apam Balik- sweet filling pancake or griddle cake
Address: Padang Matsirat, 07100 Langkawi, Kedah
Opening Hours: Sunday, 6:00pm - 10:00pm
4. Kedawang Night Market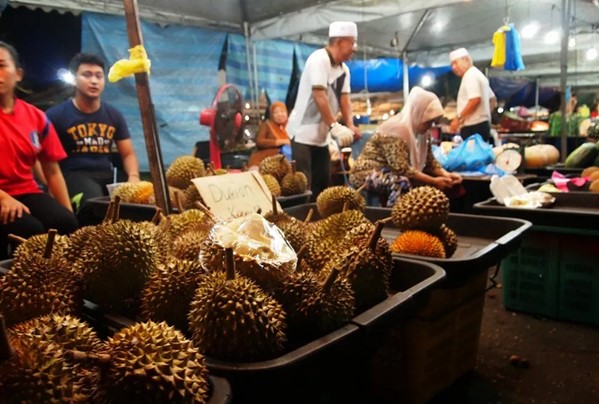 Photo: Tripadvisor
The Kedawang Night Market has a wide variety of affordable food options, including cheesecakes and bomboloni doughnuts as well as savoury food such as satay, mixed rice cooked in a Malay style, and twisted potatoes. This pasar malam Langkawi is also well-known for their ikan bakar and Nasi Lemak!
Even with the humid environment and the exuberant crowd, you can't help but enjoy a cheap hot dinner while experiencing the Langkawi nightlife. You must not forget to purchase a refreshing beverage and some ripe mangoes, which you can bring back to your hotel because they are reasonably priced. Visit early to enjoy your food served fresh from the pan with fewer crowds!
Specialty: Mango juice – Fresh mango smoothies blended with vanilla ice cream.
Address: Kampung Chedek Kura, 07000 Langkawi, Kedah
Opening Hours: Tuesday, 5:00pm - 10:00pm
5. Temonyong Night Market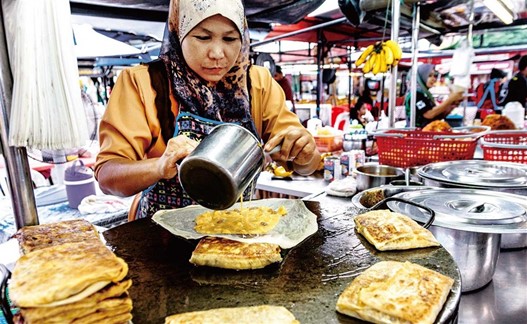 Photo: shdaily
This Langkawi night market is the most famous and packed with nearly 50 stalls selling hot, freshly prepared food all night. You might want to try some of the market's signature dishes, such as boiled squid with rice in sweet coconut milk and fresh mango smoothies. In addition to food, there are dozens of stalls offering sunglasses, backpacks, and low-cost phone accessories.
Don't bother looking for a restaurant to eat at because you can have fantastic food at a very low price here. If you're staying in Cenang, it's relatively easy to get to, so pay it a visit if you can't make it to any of the larger night markets!
Specialty: Murtabak- Chicken/Beef stuffed pancake or flatbread
Address: 19, Jalan Bohor Tempoyak, Kampung Lubok Buaya, 07000 Langkawi, Kedah
Opening Hours: Thursday, 6:00pm - 11:00pm
Wrapping It Up!
We hope that with all of the Langkawi night markets featured, your trip to Langkawi will be the most memorable ever! If you're looking for a ride to get you to these night markets, book a car with us today!
Recent Post
---
---
---
---
---
---
---
---
---
---
---
---
---
---
---
---
---
---
---
---