Discover Langkawi's Hidden Gems with Special Discounts: Exclusive for LangkawiBook Car Rental Customers
Car Rental Langkawi
Posted by Zurina Hamid on 21 Jun 2023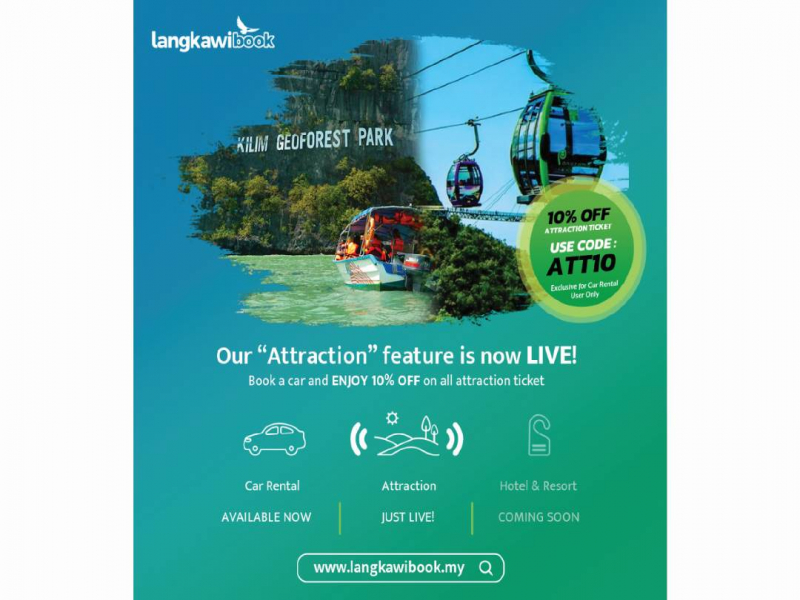 Welcome to the LangkawiBook blog, where we bring you the latest updates, tips, and promotions to enhance your travel experience on the beautiful island of Langkawi. In this edition, we are thrilled to offer the ATT10 promotion, exclusively designed for our car rental customers. Unlock the opportunity to explore Langkawi's captivating attractions with a fantastic 10% discount on all ticket entrances. Read on to find out more about this exciting offer!
Experience Langkawi's Best Attractions with Discounts
Langkawi is renowned for its pristine beaches, breathtaking landscapes, and vibrant cultural heritage. With ATT10, LangkawiBook aims to make your adventure even more rewarding. As a car rental customer, you now have the chance to enjoy a 10% discount on ticket entrances to all attractions across the island.
How to get the ATT10 Promotion
Rent a Car: Begin your Langkawi journey by renting a car from LangkawiBook. Our fleet offers a wide range of vehicles to suit your preferences and travel needs.
Receive the Promotion Code: Once you've completed your car rental booking, you will receive a promotion code via your email confirmation. This code will be your key to unlock the exclusive discounts for Attractions in Langkawi.
Choose Your Attractions: Visit our website and explore the diverse array of attractions available in Langkawi. From the iconic Cable Car to the mystical Pregnant Maiden Island, Langkawi offers something for everyone.
Apply the Promotion Code: When you're ready to book your tickets for the attractions of your choice, apply the unique promotion code at the checkout page. The discount will be automatically applied to your ticket price, giving you instant savings.
With the ATT10 promotion, you can now immerse yourself in the wonders of Langkawi without worrying about breaking the bank. Experience the joy of exploring its natural beauty, indulging in delicious cuisine, and discovering the rich local culture.
Top Attractions to Explore with ATT10:
To help you make the most of this exclusive offer, here are some of Langkawi's must-visit attractions:
Langkawi Cable Car: Soar above the rainforest and enjoy breathtaking views of the island from the Langkawi Cable Car. Walk along the awe-inspiring Skybridge for an unforgettable experience.
Langkawi Mangrove Tour: Embark on a memorable boat tour through the mangroves of Kilim Geoforest Park. Encounter diverse wildlife, explore limestone caves, and witness unique geological formations.
Underwater World Langkawi: Dive into the fascinating world beneath the waves at Underwater World Langkawi. Get up close and personal with marine creatures from all corners of the globe.
Langkawi Wildlife Park: Interact with a variety of exotic animals at the Langkawi Wildlife Park. From tropical birds to cuddly mammals, this sanctuary offers a fun-filled experience for all ages.
Conclusion
LangkawiBook believes in creating remarkable travel experiences while ensuring affordability. With ATT10, we strive to enhance your Langkawi adventure by offering exclusive discounts on attraction ticket entrances for our valued car rental customers. Don't miss out on this incredible opportunity to make lasting memories on this enchanting island.
Book your car rental with LangkawiBook today and get ready to explore Langkawi's hidden gems with the ATT10 promotion. Let the adventure begin!
Recent Post
---
---
---
---
---
---
---
---
---
---
---
---
---
---
---
---
---
---
---
---
---