Langkawi Halal Cruise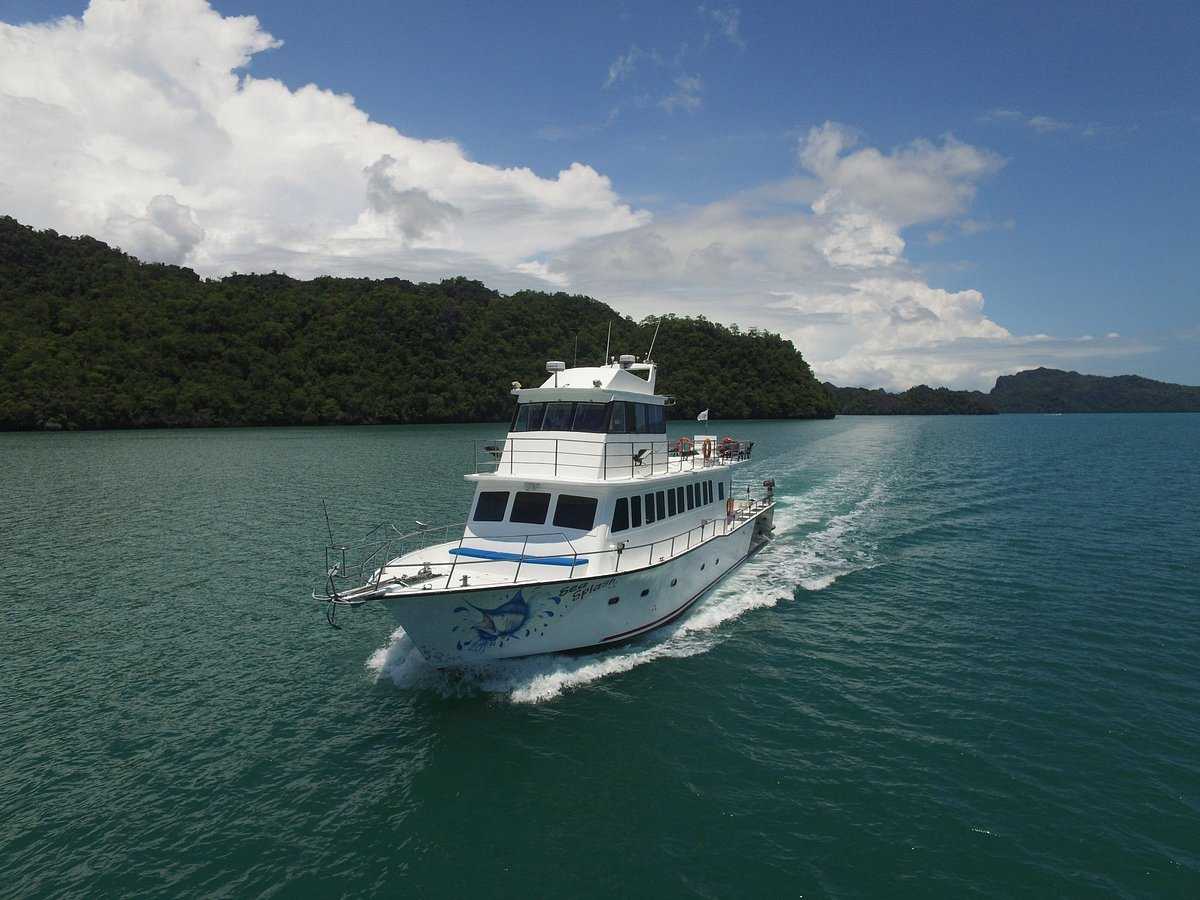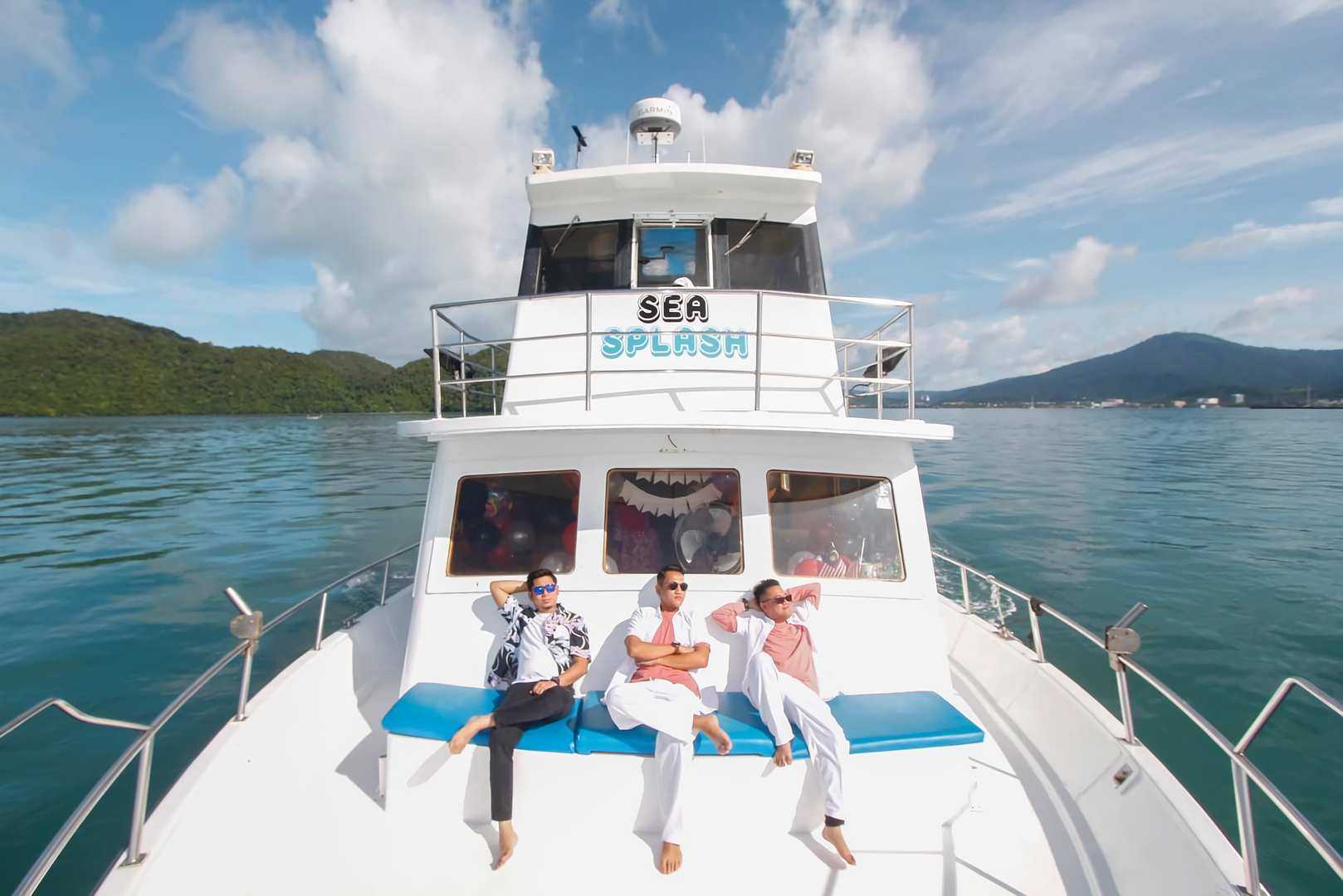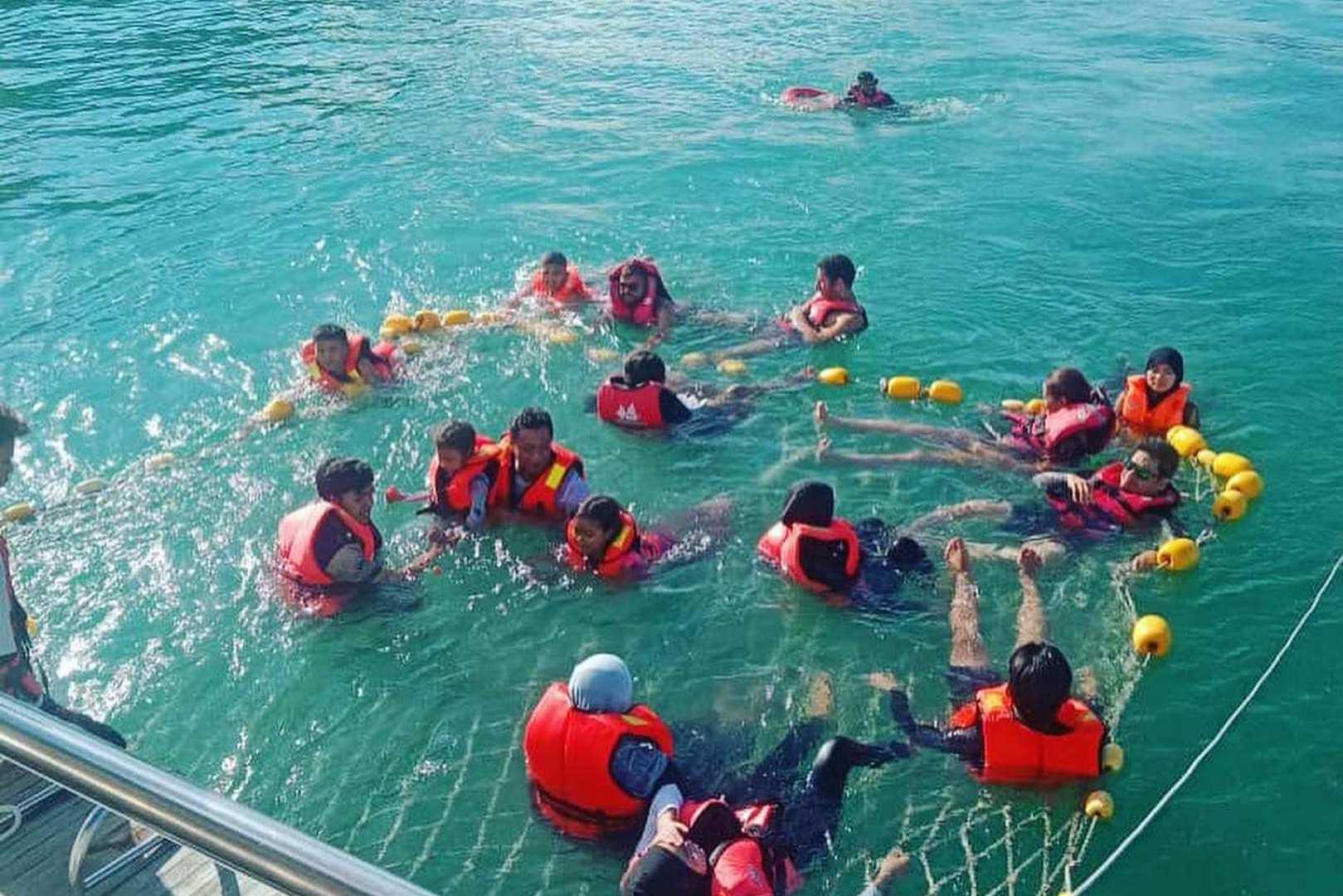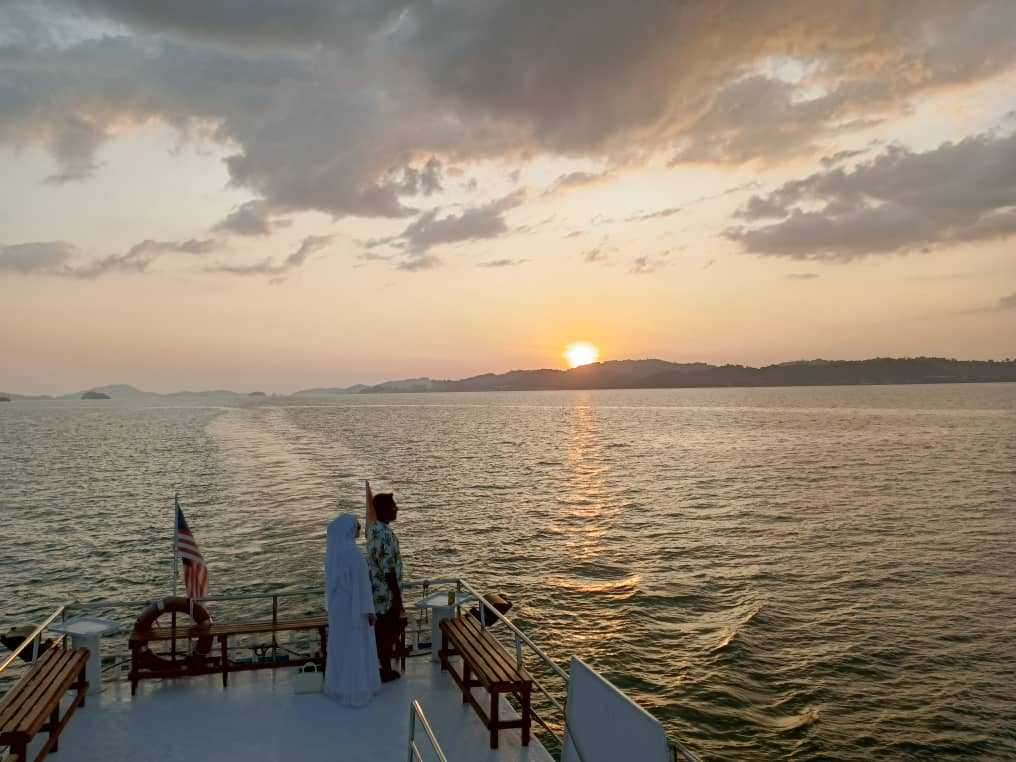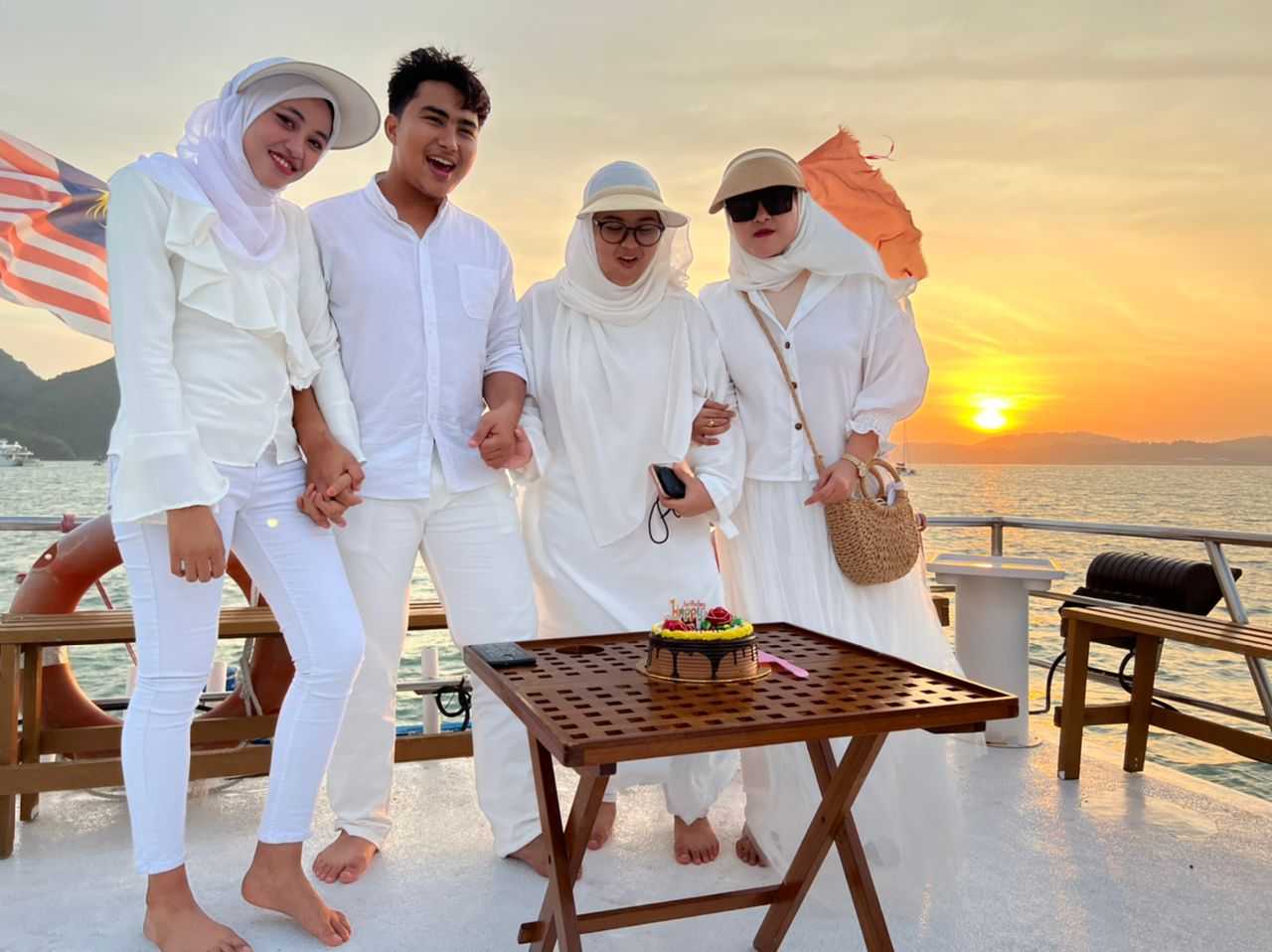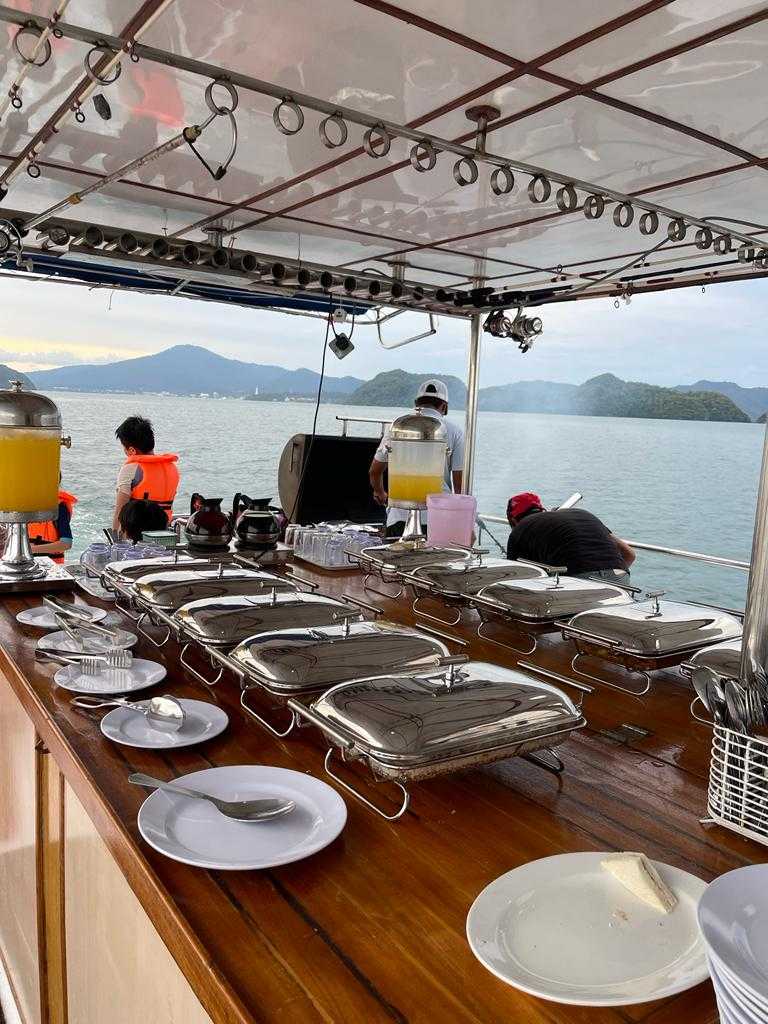 ---
Overview
Discover the untouched beauty of Langkawi's archipelago through the Langkawi Halal Sunset Cruise packages. Passengers set sail in the late afternoon, either diving into the crystal-clear waters for an invigorating swim or lounging in the on-board saltwater jacuzzi to let their worries drift away. As guests enjoy these water-based activities, the dedicated crew prepares a delectable halal buffet dinner, ensuring that all meals are Muslim-friendly and in keeping with halal standards. To complement the meal, a selection of refreshing non-alcoholic beverages is available. While dining, passengers can look forward to the highlight of the trip: a mesmerizing sunset. The sky bursts into a myriad of golden and rosy shades, reflecting beautifully on the gentle waves. It's an opportunity not to be missed, and guests are encouraged to wear their best OOTD to capture this magical moment. Whether it's a special occasion or a treat for the senses, the Langkawi halal sunset cruise promises relaxation, delectable dining, and stunning views of Langkawi. With its emphasis on Muslim-friendly practices and its commitment to abstaining from serving alcohol, this Langkawi halal sunset cruise ensures a memorable and culturally respectful experience for everyone on board. Book your ticket today! If you're looking for non-Muslim cruise packages, please visit our Langkawi Premium Cruise and Langkawi Cruise pages.
---
Langkawi Halal Cruise Package Availability
Halal Sunset Dinner Cruise
View Details
---
Highlights
Experience the beauty of watching the sunset over the serene Andaman Sea, all while enjoying unlimited non-alcoholic drinks onboard. As the sun sets, enjoy the delicious halal buffet dinner with your friends and family, freshly prepared by the crew.
Take a relaxing dip in the saltwater jacuzzi, conveniently attached to the side of the boat with a trawling net that also serves as a safety harness
Discover the stunning islands of Langkawi in style as you embark on a cruise and indulge in a variety of exciting activities
Attentive
A confirmation will be issued upon booking for your convenience.
Please arrive at least 20 minutes prior to the scheduled departure time for registration.
Child tickets are applicable for children aged between 4-11 years old.
Infants between 0-3 years old can join free of charge.
To fully enjoy the experience, don't forget to bring your swimming gear, sunglasses, sunscreen, hat or scarf, camera, personal toiletries, and towel.
Wear comfortable sandals or slippers to make the most of your experience, and take some stunning photos in your favorite outfit to capture the memories.
Please book at least one day in advance to guarantee availability for your preferred schedule.
Reviews
" Itt was amazinggg. One of my besttt trip and memory so Professional and amazing crew 😍😍. Would 100% come back and i will recommend this to everyone. "
By Sana Shoaib
" Great and friendly crew. Good times spent with loved ones and good food. "
By Maryam Binti Mohamed Rahim
FAQ
Yes, all meals served on the cruise are Muslim-friendly and adhere to strict halal standards.
No alcoholic drinks are served on board. However, there is a selection of refreshing non-alcoholic beverages available.
Passengers can expect an evening of relaxation, starting with a sail in the late afternoon, opportunities to swim or unwind in an on-board saltwater jacuzzi, a delectable Muslim-friendly dinner, and the mesmerizing view of the sunset over Langkawi's archipelago.
The sunset cruise sets sail in the late afternoon at 4.30pm to provide guests with an opportunity to enjoy both water activities and the sunset
While there isn't a strict dress code, guests are encouraged to dress conservatively in respect of the Muslim-centric cruise
Other Attractions You May Like